A suspended ceiling or dropped ceiling, consists of panels supported by a lightweight grid system (metal framework) that is suspended from the slab above. Suspended ceilings are a type of architectural design element used in commercial and residential buildings.
Advantages of dropped ceilings –
Tiles also give a nice, neat finish, and acts as a cover for any HVAC , plumbing or electrical wires that run along the original ceiling. If any of the tiles are damaged it is very easy to replace individual tiles as these ceilings provide easy access for maintenance. These come in a variety of styles and can be used for various purposes.
Metal framework or grid –
The metal framework of dropped ceilings consist of long metal strips, called "mains," which are interconnected with shorter metal pieces known as "tees." The main components of a grid system are the 12' main runner, the 4' cross-tee, the 2' cross-tee and the 12' wall angle. The ceiling tiles are attached to these ties forming a false ceiling below the original one.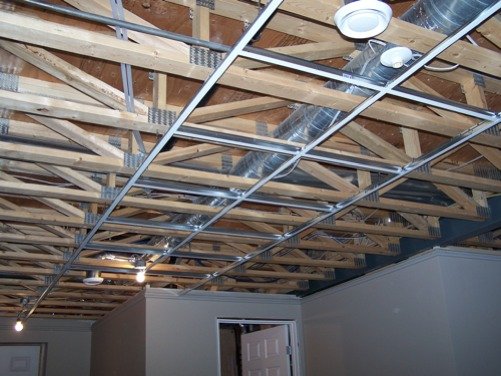 Types of grid frame size –
These exposed grid systems feature a standard 15/16″ wide metal frame around each tile or a narrower (9/16") metal frame.
The standard 15/16 inch ceiling grid system (1" grid system) has a more visible face. It can be installed in 2×4 design as well as 2×2 grid patterns.
9/16" suspended ceiling grid designs are a modern-looking upgrade from the traditional 15/16" standard width grid. It requires high precision in maintaining square grid as there is less of the grid material for the ceiling tile to rest on. Mostly 9/16" fine line suspended ceiling grid systems are installed using a 2×2 ceiling grid pattern; however you can use a 2×4 ceiling grid pattern if desired.
Types of ceiling tiles –
The tiles used are available usually in sizes of 2'x2' or 2'x4'and are 10-12mm thick.
These are made up of different light-weight materials such as plastic, metal, fibreglass, mineral fibre, cork and laminates. These tiles mostly have different perforations such that they have suitable acoustical properties. The price of the tiles vary with the material of the tile. It ranges as Rs 45 per sq ft to Rs 360 per sq ft. The cost of the tile also increases with the benefits such as film coating, water properties and acoustical perforations.
Most basic drop ceiling tile designs are extremely light in weight and offer a porous look and are used widely in school classrooms, hallways and cafeterias. These ceiling tiles work best when a large area has to be covered with the false suspended ceiling and serve to be highly economical.
Mid-ranged ceiling tiles have comparatively less perforations and a good resistance to humidity. They are textured to give an appealing appearance. These tiles are affordable and can be used in conference rooms, corridors, offices, lobbies and reception areas which need a modern and elegant look. They are also suited for use in toilets and basement at home.
Highly priced ceiling tiles are thicker, have great sound absorption quality, are highly resistant to humidity and give a great appearance. They have a fabric texture rather than the painted one as in the cheaper tiles. Also suitable for spaces that require high sound insulation such as offices, retail stores and restaurants or hotels. They also work best for high budget residential projects.
These tiles also have different tile edges depending on the desired use and look. Square edge tiles show the grid, while regular edge tiles minimize the appearance of the grid.
Types of dropped ceilings –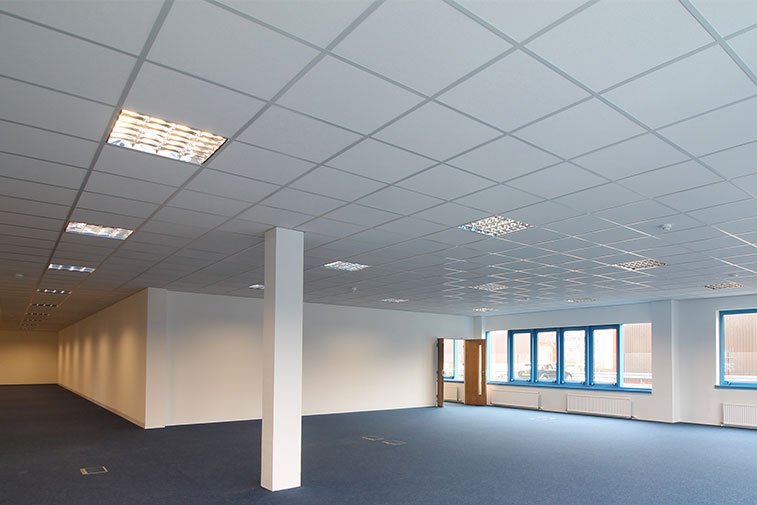 Exposed Grid System
Exposed grid system is the most common type of suspended ceiling. Together, the mains & tees form a grid system of 2′ by 2′ or 2′ by 4′ squares, which are then filled with acoustical ceiling tiles. The tiles are placed resting on the grid system which is visible in between the tiles. Such systems are easy to install and even the repairs can be done easily.
Concealed Grid System
Concealed grid systems have tiles that hide the grid system from view giving a smooth and clean look. The tiles used in a concealed system have groves on all the four edges, which slides over the mains and tees to cover them. This type of system is more expensive than an exposed system, and can make it difficult for maintenance. Moreover accessing the problems above the ceiling also becomes difficult.
Bandraster System
Bandraster systems comprise of varied patterns made by metal tees and mains of different lengths. These systems used in case of a certain look has to be created in the ceiling, as they can be arranged in many different ways. Bandraster ceilings require the use of specially-sized tile to fit within the unique grid patterns.
---
+91 9211111287 |  info@hgcindia.in